It is with enormous joy that I introduce you to The Curiosity Adventures of Miss Alley, that I compose (or rather transcribed) and illustrate for Miss Alley.
The Curiosity Adventures of Miss Alley, are delightful and endearing stories, told from the cat's perspective.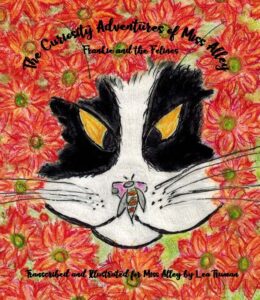 After being abandoned as a kitten, Miss Alley is rescued by a kind lady. Her "human" parents smother her with love and provide her with all sorts of creature comforts. As she grows into a young feline lady, Miss Alley wonders about her Feline Mum and the big world outside. One day she sneaks out in search of her Feline Mum. What Miss Alley discovers is the meaning of acceptance, family, friendship and unconditional love.

The Curiosity Adventures of Miss Alley ~ Frankie and the Felines
---
---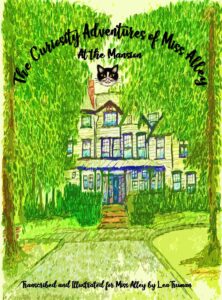 What will Miss Alley, Frankie, Grayson and Red find when they maneuver their way around the garden door? Will the felines be able to conjure up an idea to lead their human parents to an abandoned old mansion and save Mama Kitty and her three kittens? And save the old mansion too? What Miss Alley, Frankie and their feline friends discover is the meaning of providing comfort and respect to those in need and inspiring a community to join together for the common good.
---
---
The Curiosity Adventures of Miss Alley are available from local booksellers! Please visit Kensington Row Bookshop or Bookshop.Org!
---
---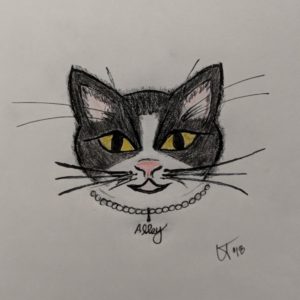 The Curiosity Adventures of Miss Alley are based on my darling, inquisitive, motherly, and loving feline "Alley Marie." We spent a little over 15 wonderful years together. She endured moves from condos to beach houses and a final move to a proper house near the eastern shore. Along the way, she saw me through the most difficult years of my life, the addition of two young kittens (that she raised as her own) and a few gentleman callers. Alley Marie was the most accepting cat I've ever known. She genuinely possessed a sympathetic, nurturing, sweet soul.
Many years ago, I began writing the first book as a final project for an interesting college course I took that combined both creative writing and marketing. My professor and fellow classmates adored the book but my confidence in completing the story line and the illustrations waned so I shelved it. Until an impromptu get-away weekend to visit a friend of my husband's who is a professional artist.
I brought along my small portfolio of illustrations and a rough draft of the story lines. One afternoon while chatting in his studio, I asked him a series of questions on perspective, that lead me to confessing I brought my drawings with me. He was thrilled to look over my work. I told him to be brutally honest, "you will not hurt my feelings." He looked at my drawings, sat for a moment, and said "these are wonderful, you must finish at least one book."
And now, thirty years later, the little book I began about a curious little black and white kitten is available! I hope,The Curiosity Adventures of Miss Alley, will surprise, delight, inspire and warm the hearts of young and adult readers alike.
________________________________________________
Meet Miss Alley
________________________________________________